There are several ways to donate to the MBS Memorial Trust. Below are several of the Campaigns currently active as part of the MBS Memorial Trust.
Kay Harris Sims Memorial Sponsorship Fund
In honor of Kay Harris Sims, the Missouri Boys State Memorial Trust has created the Kay Harris Sims Memorial Sponsorship Fund. Each year, beginning in 2021, this fund will award full sponsorship to a student (or students) which will enable their participation at Missouri Boys State from American Legion District 5 (Greater Kansas City area). Those selected to participate through this fund will be designated as the Kay Harris Sims Memorial Scholar.
This designation honors the life and service of Kay Harris Sims who faithfully served as a member of the senior administrative staff at Missouri Boys State for 25 years. Her guidance and wisdom embodied the spirit of Missouri Boys State. Her love for Missouri Boys State will live on through this perpetual endowment. It will serve as a constant reminder of the importance of community and public service and her commitment to live these values through Missouri Boys State.
Giving Back to Missouri Boys State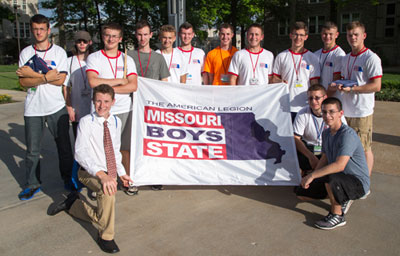 Thank you for your interest in donating to the Missouri Boys State Memorial Trust. Your generous contribution will enable the Missouri Boys State program to exist well into the future, and enable the Trust to provide a multitude of scholarships, engaging speakers to enrich the experience the future leaders of Missouri will have at Missouri Boys State.
To enable us to better manage your donation, we have partnered with NeonCRM.
To make a donation using your credit card, please click here. You will be taken to our NeonCRM webpage where your donation payment will be handled securely.
From there you will be able to choose to make a single one-time credit card donation or a recurring monthly, quarterly, or yearly donation which will automatically be charged to your credit card.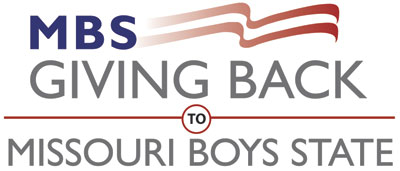 Donation Levels
Please consider the following examples for your monthly donation. These are merely suggestions and we are most grateful for your participation at any level.
| | |
| --- | --- |
| MBS Year | |
| 2015-2020 | $5.00 per month |
| 2006-2015 | $10.00 per month |
| 1994-2005 | $25.00 per month |
| 1980-1994 | $50.00 per month |

We ask that MBS Years prior to 1980 donate either annually as part of your charitable giving or monthly at a level you deem appropriate.